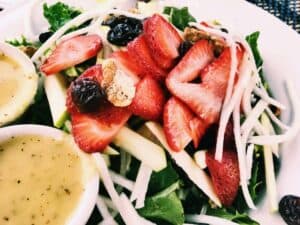 School is finally out for the summer, and strawberry season is in full bloom in Michigan. Fresh farm strawberries are incredible this time of year. Summer provides me a lot of time to pick strawberries, prepare food and relax. Although I appreciate the lazy days of summer, school will be back in session before I know it. So, this is the perfect time to devote time to my blog and cook with incredibly fresh fruits and vegetables.
Although many people do not care for a mixture of fruit and vegetables in a salad, I LOVE the combination of sweet and crunch in every bite. With strawberries in season, it seemed the prefect time to use the fresh strawberries I picked on a local farm.
Since following Furman's Eat to Live Program, I have found creative ways to make hearty salads and oil-free dressings. I also enjoy the one ounce of nuts permitted on the program. I have created numerous dressings and entrees, since beginning the program, using a small amount of nuts, which brings a creaminess and texture to food.
The flavors you choose for the combination of salad ingredients makes a salad incredible. Granny Smith apples, for instance, give a tart taste when mixed with greens, while the straw
berries give a subtle, sweet taste. The small amount of nuts gives an added meaty crunch. And of course, the dressing brings it all together.
When trying to eat healthy, many people make the mistake of using a lot of fatty dressing. The healthy salad ends up having more calories and fat than a heavy fattening meal. Although the intention of eating healthy exists, it goes right out the window with the fat ladden dressing. And we all love a lot of dressing.
Coming up with creative ways to make dressings and practicing with a lot of different recipes, helps to make your salad healthy and the quality food you are looking for.
This particular salad is spinach based, but feel free to add any of your favorite greens. Spinach is a super food loaded with tons of nutrients in a low calorie package. Dark, leafy greens like spinach are important for skin, hair, and bone health. Spinach also provides protein, iron, vitamins, and minerals. The health benefits are endless.
This is a perfect salad to take to work, or serve at a luncheon. I served this to my girlfriends when they came over to celebrate the end of the school year.
*Note: Omit the nuts if you have an allergy, or you do not eat nuts due to dietary restrictions.
Print
Strawberry Fields Spinach Salad with Vegan Oil-Free Poppy Seed Dressing
Author:

Prep Time:

10 minutes

Total Time:

10 minutes

Yield:

4 servings
---
Description
Strawberries, Apples, and Cherries….Oh My! Try this beautiful summer salad with a mixture of spinach, fruits, and nuts, with a light oil-free poppy seed dressing. Plant-based never tasted so fresh.
---
Ingredients
Salad:
16 ounce bag, washed Organic Spinach
1 sliced thin Red Onion
3 cups Organic Strawberries, stem removed and sliced thin
2 medium Granny Smith Apples, sliced into match sticks
1 cup, chopped Dried Cherries
1 cup, chopped Walnuts
1, sliced thin English Cucumber
Oil-Free Poppyseed Dressing:
1/4 cup Apple Cider Vinegar
3 Tablespoons Pure Maple Syrup
3 Tablespoons Poppy Seeds
1/4 cup Unsweetened Unflavored Almond Milk
3 Tablespoons Coconut Flour
2 Tablespoons Lemon juice
2 Tablespoons Dijon Mustard
1 Tablespoon Garlic Powder
2 teaspoons Fresh Ground Pepper
1 teaspoon Pink Himalayan Salt
---
Instructions
Oil-Free Poppyseed Dressing:
Add all ingredients except for the poppyseeds to a small blender. I used my single cup Nutri-bullet blender.
The flour is used to thicken the dressing so you don't need to add any vegan mayo, or other high calorie thickener.
Add the poppyseeds and shake.
Refrigerate until ready to use.
Prepare Spinach:
Wash and stem spinach.
I get it at the farmer's market fresh, but I have to cut some of the long stems.
You can buy it already washed and prepared in the organic section of your supermarket.
Fill each bowl with at least half spinach or choice of greens.
Prepare Other Vegetables and Fruits:
Wash and slice onions, cucumbers, apples, and strawberries.
If you are not using the apples right away, cut them in to matchsticks and spray or toss in lemon juice to prevent browning.
Chop walnuts but not coarsely. You want to cut them in half.
Add Ingredients to Salad Bowl:
Evenly distribute the rest of the ingredients on the four bowls, making sure to scatter the ingredients to equally divide the cut vegetables and fruits.
Add the nuts last (do not put nuts on until it is time to serve if making ahead of time).
You don't want soggy nuts.